Briggs & Riley Kinzie Street Framed Wide-Mouth Backpack ZP120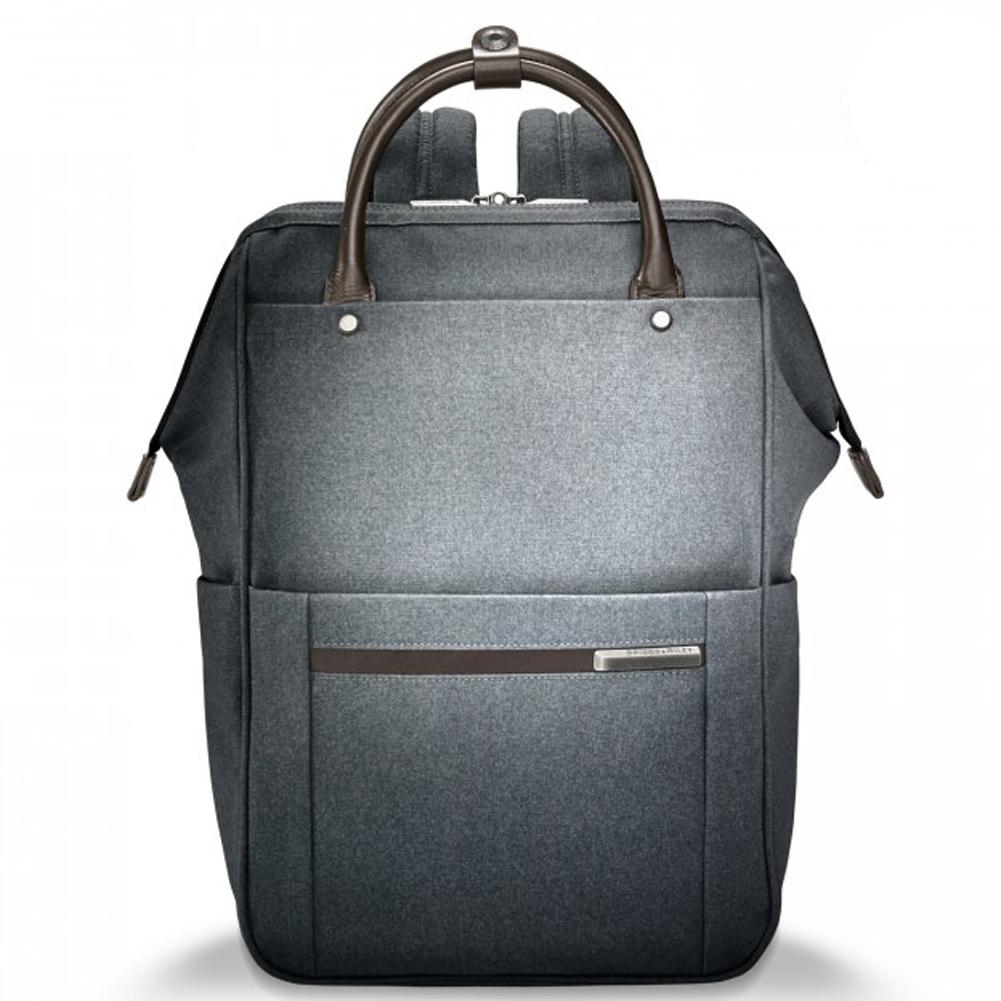 Briggs & Riley Kinzie Street Framed Wide-Mouth Backpack ZP120
Briggs & Riley® Kinzie Street Framed Wide Mouth Backpack is the perfect minimalist backpack for professionals on the go. Inspired by urban design, Kinzie Street backpack is sleek and stylish with an easy access wide mouth top. Kinzie Street Backpack is the epitome of urban style that will take you from day to night. SHIPS FREE!
Briggs & Riley® Kinzie Street Framed Wide Mouth Backpack has a Briggs & Riley manufacturer lifetime guarantee.
Briggs & Riley® Kinzie Street Framed Wide Mouth Backpack Features:
Dimensions 14.5" x 10" x 7" / 37 x 25.5 x 18 cm

Weight 1.8 lbs / 0.8 kg

Material is Proprietary Tartex

Capacity 1086.2 cu. in / 17.8 liters

Style #ZP130 Kinzie Street Collection
sale
The unique opening of the Briggs & Riley® Kinzie Street Framed Wide-mouth Backpack is only one of the many smartly designed Kinzie Street features that commuter savants have come to know and rely on. This backpack lets this generation's geniuses stay comfortable and casual but organized and on their game at all times. Kinzie Street Framed Wide Mouth Backpack from Briggs & Riley® is available in color Grey and Navy.
RFID blocking pocket protects your personal data from theft when carrying your Briggs & Riley® Backpack. Just slip your passport, ID and credit cards into the RFID blocking pocket and you can have peace of mind that your personal data is protected. RFID pocket is located in the main compartment of the backpack and is labeled.
Kinzie Street Framed Wide-mouth Backpack is made from Proprietary Tartex material, which is a unique, embossed coated fabric that provides durability, abrasion resistant and moisture resistance. YKK® zippers throughout the bag are dependable, self repairing and make for smooth zipper action every time you zip and unzip. Leather details on carry handle make for a comfortable grab and go of the to handle. Speed Thru™ pocket on front of backpack is lined with a super bright orange color so you can easily see if your pocket has been left open. Bright colored lining also makes it easy to see what is inside your pocket with a quick glance. On the side of the bag is a side pocket to store a water bottle or extra tech gadgets.
Briggs & Riley® Kinzie Street Framed Wide Mouth Backpack leads the pack for those seeking a casual travel companion, whether going near or far, urban or outdoors. Unique design, uncompromising organization and our exclusive Tartex fabric, deliver a whole new level of versatility that helps you easily navigate your world - morning, noon and night.
You will feel comfortable and breezy while carrying your backpack with contoured and padded shoulder straps. Back panel of Kinzie Street Framed Wide-mouth Backpack has a breathable mesh back so it is comfortable carrying your backpack even in hot humid weather. Also on the back of the bag is Slip through back panel so you can easily slide your backpack over a handle of an upright rolling suitcase to combine bags and roll your luggage through the airport fast.
Features Highlights
Unique rigid wire frame easily forms a wide opening, providing ultimate accessibility and making it easier to pack or to search for contents

Cavernous main compartment holds clothing and bulky or odd-shaped items

Textured, herringbone polyester lining is durable and soft; fully lined interior treats items gently; light color makes finding contents easy

Generously padded tablet slip pocket with screen-protective felt lining fits most tablets and e-readers in or out of their cases

RFID blocking pocket for credit cards, passports and wallets protects personal data from digital pickpockets

Genuine top-grain leather pen loops for writing implements of any size; removable knurled hardware key keeper (included in Welcome Kit) can be hung from loops

Genuine top-grain leather tab with clasp closure to securely hold a range of small items such as cords, earbuds and USB drives

Proprietary Tartex™ is a unique, embossed, coated polyester that provides durability and moisture resistance

Luxurious genuine top-grain leather touch points and accents

Rolled, genuine top-grain leather carry handles for a comfortable grip and easy carrying Sliding top-grain leather clasp keeps top handles joined together for convenient carry

Self-repairing YKK® RC zippers for smooth zipper action

Knurled hardware and zipper pulls offer an industrial feel and modern aesthetic

Main compartment zipper pulls can be used with a cable lock to keep contents secure Adjustable padded neoprene backpack straps

Aerated mesh back padding allows air to circulate against body, keeping back cool while generously padded back panel adds lumbar support

Slip-through back panel allows bag to slide over any Briggs & Riley Outsider® handle for fast, convenient travel

SpeedThru™ pocket for quick storage of items at security checkpoints; orange lining makes finding contents easier and alerts user if pocket is open; inside pen loops and small slip pocket for additional organization

Hidden RFID blocking security pocket on back panel for credit cards, passports and wallets protects personal data from digital pickpockets

Two side PVC-lined slip pockets are ideal for storing a water bottle or umbrella; protective coating ensures that interior of bag is protected from water and moisture
About Briggs & Riley Kinzie Street Luggage Collection
Inspired by bustling downtown streets and urban design, the Kinzie Street Collection is a casual, stylish collection of day bags designed with tech gear in mind. Kinzie Street mixes high-performance materials like proprietary Tartex™ fabric, RFID blocking pockets, and luxurious leather touchpoints with high-quality hardware to withstand usage, day to night.
Briggs & Riley® has a LIFETIME GUARANTEE
Briggs & Riley® brand believes that customers are family. When you are family you do what is right. Briggs & Riley® lives by the philosophy that customers are family and should lookout for one another and that is why Briggs & Riley® offers a lifetime repair guarantee on all their bags. If your Briggs & Riley® bag is ever broken or damaged, even if the airline caused the damage, Briggs & Riley® will repair your bag free of charge. To Briggs & Riley® "lifetime guarantee" is more than a marketing strategy; its a sigh of their integrity. Review your Briggs & Riley repair options at www.briggs-riley-bags-luggage-travel-accessories.com/briggs-riley-repairs
Briggs & Riley® PHILOSOPHY
Briggs & Riley® bags are engineered for reality and knows that when your traveling, your luggage can mean the difference between a frantic trip or a relaxed trip. Briggs & Riley® listens to its customers, who are using the products and design bags for their customers' real world needs. A handle mounted on the outside of a bag to create more room and flat packing. A pocket to hold toiletries or safeguard your passport. An expansion system that adds capacity then compresses your belongings securely in place. In fact, we have multiple patents designed to make travel, well, easier. It 's innovative thinking like this – never for innovation's sake – that sets Briggs & Riley® apart. Now combine all that with the only unconditional lifetime guarantee in the business. It's no wonder our customers are nothing short of Fanatical about our bags. Read more about Briggs & Riley's Philosophy at www.briggs-riley-bags-luggage-travel-accessories.com/briggs-riley-philosophy
Follow Briggs and Riley® on Social
Instagram @briggsandriley
Facebook @BriggsandRiley
Twitter @briggsandriley
Youtube @briggsriley
LinkedIn @briggs-&-riley-travelware
What Is In My Wide Mouth Work Backpack Video | prettypolishes
Framed Wide Mouth Backpack is a great backpack for commuting to work. You can take the weight off your one shoulder and distribute the weight evening on your back for a more comfortable commute. In this video prettypolishes goes over what she has in her work wide mouth work backpack including her Macbook, waterbottle, wallet, headphones, and beauty pouch.