Briggs & Riley Sympatico Silver Large Expandable Spinner SU130CXSP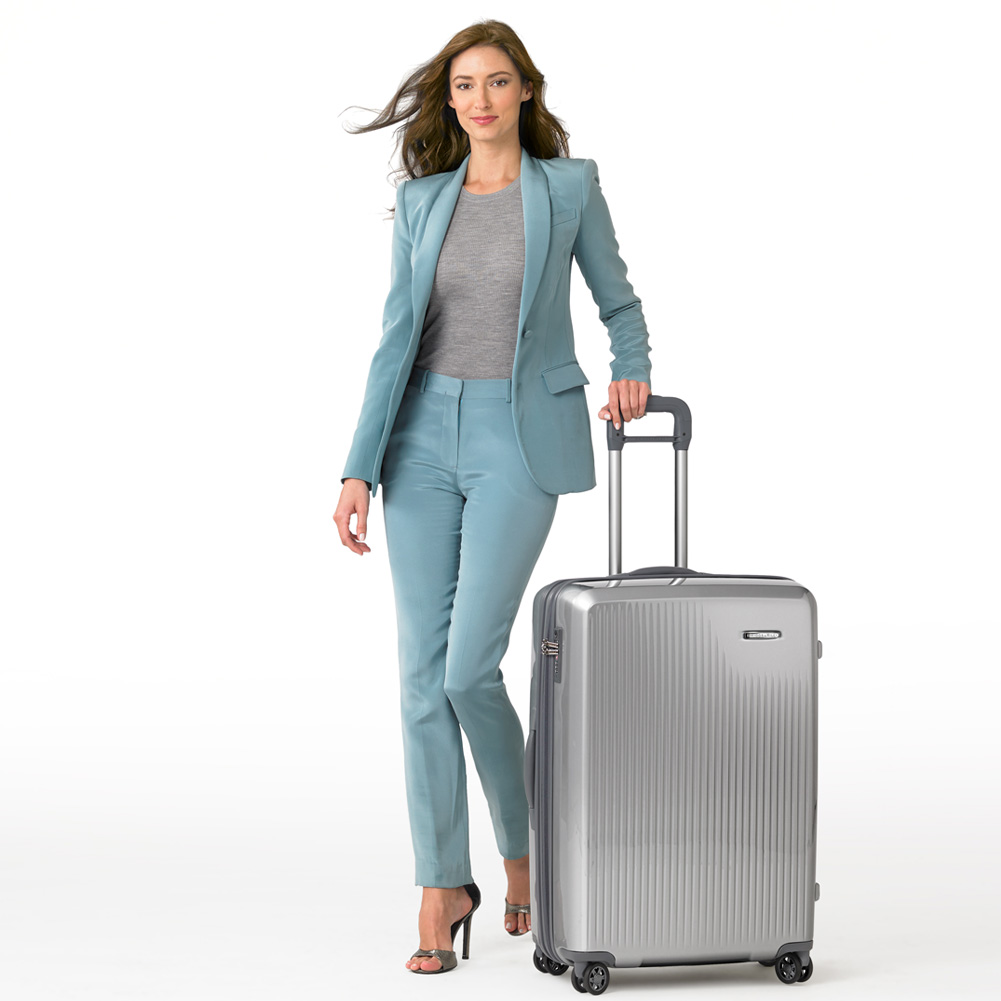 Briggs & Riley Sympatico Silver Large Expandable Spinner SU130CXSP
FREE SHIPPING on all Sympatico SILVER Anniversary Limited Edition Luggage!
Briggs & Riley® Sympatico Silver Large Expandable Spinner is the luggage for those who refuse to leave any travel accessory behind. Sympatico Silver Large Expandable Spinner lets you stylishly check your suitcase. Pack more in your checked bag with CX™ expansion system. Sympatico Silver available September 2018.
Briggs & Riley® Sympatico Silver Large Expandable Spinner has a Briggs & Riley® manufacturer lifetime guarantee.
Briggs & Riley® Sympatico Silver Large Expandable Spinner Features:
Dimensions 30" x 20" x 12" / 76 cm x 51 cm x 30.5 cm

Weight 13.5 lbs / 6.1 kg

Capacity 6720 - 8400 cu. in / 110.1 - 137.7 liters

Outside expanded depth 15" / 38 cm

Material high strength Makrolon polycarbonate

Polished chrome accents

Commemorative leather patch

Anniversary Edition soft-touch grey lining

Style #SU130CXSP Sympatico Silver Limited Edition Collection
Briggs & Riley Sympatico™ Silver Limited Edition Luggage shimmers at every angle, perfectly reflecting innovation. Briggs & Riley is celebrating their 25th Silver Anniversary with this limited edition color. Sympatico™ Silver hardside suitecases offer the same performance and style that has defined Briggs & Riley for 25 years. Celebrating 25 years of performance and style. Introducting Sympatico™ Silver Anniversary Edition. Silver moons. Silver seas. Silver anniversaries. All Silver Anniversary Edition Luggage featurees CX compression expansion system that lets you pack more when you need to. A commemorative leather patch commemorating the 25th Briggs & Riley Anniversary. A built-in suiter so you can pack your suits, slacks, button up shirts, dresses and skirts wrinkle free. Finally, all Silver suitcases have garment-securing panels so your clothes don't shift in transit.
Briggs and Riley Large Expandable Spinner will fit all your travel essentials for your week long getaway. The Briggs and Riley Large Expandable Spinner is the suitcase for those who refuse to leave anything behind. Not only can you pack everything on your travel wishlist and still have room for souvenirs, but you can also rely on the supreme durability of the Makrolon® polycarbonate case to protect all your contents. Need even more room? The Briggs & Riley CX™ systemexpands for 25% more space, then compresses to original size. Coordinates perfectly with a soft Sympatico companion piece. Perfect for a 5 - 8 day trip. Large Expandable Spinner from the Sympatico collection is also available in additional colors.
Large Expandable Luggage features a built in suiter to keep suits and garments secure, minimizing wrinkling during transit. Suitcase also has CX Expansion compression system that increases packing capacity then compresses to original size to keep content secure. 70/30 top lid opening allows bag to be packed like a traditional suitcase on a luggage rack.
Built in TSA friendly combination lock secures the content of your luggage. Please navigate to the Product Troubleshooting page for step by step instructions on how to set your personal combination dial on your Sympatico Spinner. Note: this bag does not ship with a key- the keyhole is for TSA agent access only.
About Briggs & Riley Sympatico Silver Collection
Sympatico is a coordinated collection that combines hard spinner cases with soft companion pieces. Take them together and get rolling or remove one and conveniently carry it with you.
As Briggs & Riley embarks on this milestone year marking their 25th anniversary, they are proud to continue their commitment to their brand pillars of innovation, performance and style. These three core components fuel their overarching goal to provide top-notch service to global travelers.
As an independent, family-owned brand and the only one in the luggage industry to offer a lifetime performance guarantee, Briggs & Riley strive to bring you the latest innovations. From creating product with cutting-edge functionality, to providing an outstanding customer experience, Briggs & Riley is passionate about making travel, well..., easier.
"Engineered for Reality. Guaranteed for Life." is not justa a tagline supporting their warrantly service- it also embodies Briggs & Riley's culture, their product and Briggs & Riley's brand philosophy. As Briggs & Riley increase their reach in and beyond the United States, Canada, Mexico, the UK, Germany, Japan, China and the Middle East, you can be confident that we will continue our growth globally, and will continue to deliver performance-rich, cutting edge travel solutions for decades to come. Briggs & Riley looks forward to many exciting journeys ahead with you. - From Richard Krulik CEO of Briggs & Riley
Briggs & Riley® has a LIFETIME GUARANTEE
Briggs & Riley® brand believes that customers are family. When you are family you do what is right. Briggs & Riley® lives by the philosophy that customers are family and should lookout for one another and that is why Briggs & Riley® offers a lifetime repair guarantee on all their bags. If your Briggs & Riley® bag is ever broken or damaged, even if the airline caused the damage, Briggs & Riley® will repair your bag free of charge. To Briggs & Riley® "lifetime guarantee" is more than a marketing strategy; its a sigh of their integrity. Review your Briggs & Riley repair options at www.briggs-riley-bags-luggage-travel-accessories.com/briggs-riley-repairs
Briggs & Riley® PHILOSOPHY
Briggs & Riley® bags are engineered for reality and knows that when your traveling, your luggage can mean the difference between a frantic trip or a relaxed trip. Briggs & Riley® listens to its customers, who are using the products and design bags for their customers' real world needs.A handle mounted on the outside of a bag to create more room and flat packing. A pocket to hold toiletries or safeguard your passport. An expansion system that adds capacity then compresses your belongings securely in place. In fact, we have multiple patents designed to make travel, well, easier. It 's innovative thinking like this – never for innovation's sake – that sets Briggs & Riley® apart. Now combine all that with the only unconditional lifetime guarantee in the business. It's no wonder our customers are nothing short of Fanatical about our bags. Read more about Briggs & Riley's Philosophy at www.briggs-riley-bags-luggage-travel-accessories.com/briggs-riley-philosophy
Follow Briggs and Riley® on Social
Instagram @briggsandriley
Facebook @BriggsandRiley
Twitter @briggsandriley
Youtube @briggsriley
LinkedIn @briggs-&-riley-travelware
Packing tips For Vacation Video | Knot Me Pretty
Briggs & Riley Silver Sympatico Large Checked Suitcase is perfect for packing for a long vacation. In this video, Shalini Samuel from Knot Me Pretty gives her packing hacks for packing for a vacation. She packs her glass perfume bottles inside of her socks. Shalini purchases travel size hair tools such as a mini hair straightener.