Briggs & Riley Transcend Toiletry Kit TT410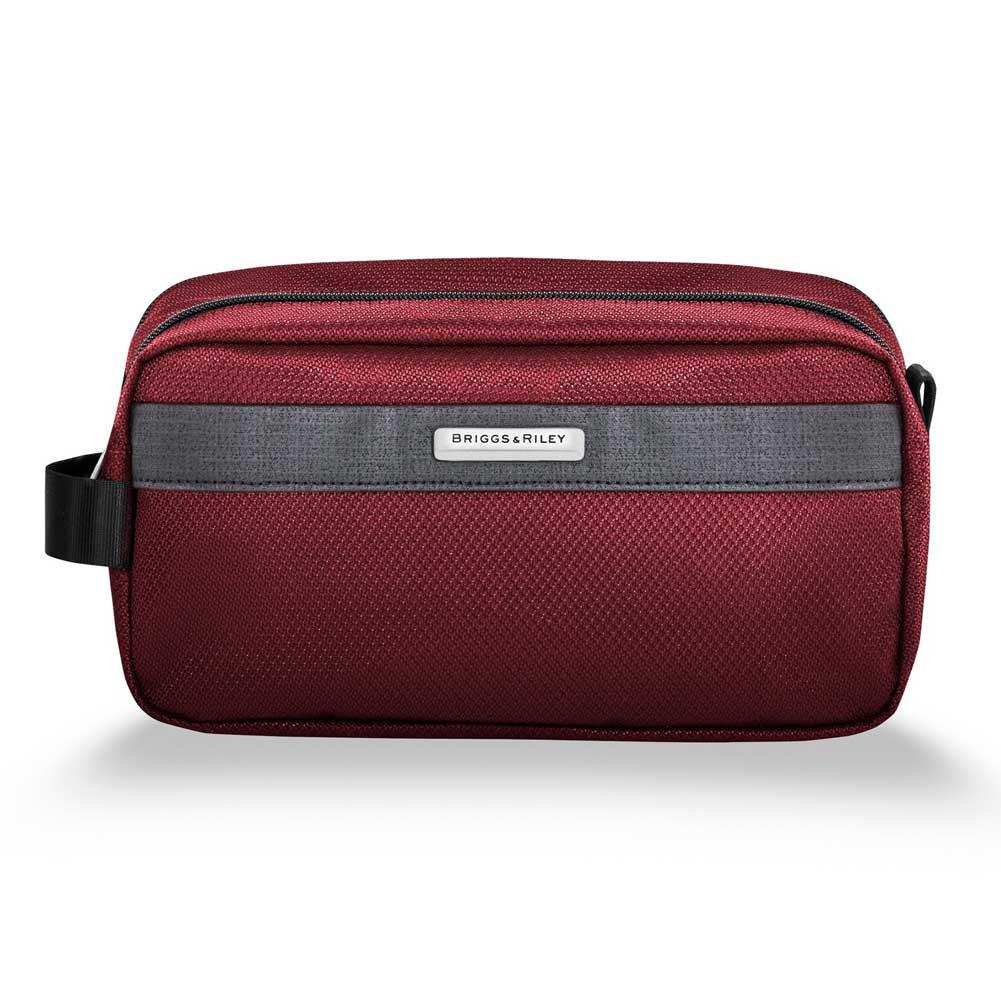 Briggs & Riley Transcend Toiletry Kit TT410
Transcend Toiletry Kit from Briggs & Riley® has a large interior compartment great for storing makeup, makeup brushes, razors and shaving accessories. Nylon twill fabric is moisture resistant and will stand up to spills and abrasions. FREE SHIPPING!
Briggs & Riley® Transcend Toiletry Kit has a Briggs & Riley® manufacturer lifetime guarantee.
Transcend Toiletry Kit Features:
Dimensions 9.5" x 4" x 4.5" / 24 cm x 12.5 cm x 11.5 cm

Weight 0.4 lbs / 0.2 kg

Material two tone nylon twill outer fabric

Capacity 73.2 cu. in. / 1.2 liters

Style #TT410 Transcend Toiletry Kit Briggs & Riley®
sold out
Transcend Toiletry Kit is a perfect companion for on the go personal items. Toiltry Kit from the Transcend Collection fits into any Briggs and Riley Checked Suitcase or Carry On Suitcase with ease. Made from a two tone nylon twill, the outside fabric has a fine weave for sleek touch and streamline appearance. Durable lightweight fabric blend resists wear, moisture, dirt, and abrasions. Permasquare outerfabric accents add a sleek style accent that coordinate with the rest of the Transcend Luggage Collection. On the side is a handy webbing loop for easy carrying and hanging. Hang up your toiletry bag to keep it off of wet countertops. Light colored lining makes finding contents easier. Elastic loops on the inside lid accommodate accessories such as razors, toothbrush or makeup. The toiletry kit lid lays flat when open for easy access to the contents inside. Interior divider keeps bottles organized and standing upright.
Feature Highlights
Light-colored polyester lining treats items gently and makes finding contents easy
Three large elastic loops on inside lid accommodate accessories such as razors, toothbrushes, cosmetic brushes, etc.
Inside lid lays flat when unzipped for easy access to contents and supreme organization
Interior divider keeps other items such as bottles, creams and sprays organized and standing upright
Cavernous secondary zip compartment is perfect for storing large or odd-shaped items such as a hairbrush, large bottles, etc.
Proprietary two-tone nylon twill outer fabric has a fine weave for a sleek touch and non-bulky appearance; durable and lightweight fabric resists wear, moisture, dirt and abrasion
Permasquare™ outer fabric accent coordinates with other styles in the Transcend® collection
Durable webbing loop on side for easy carrying and hanging, keeping it off wet countertops
Self-repairing YKK® RC zippers for smooth zipper action
About Briggs & Riley Transcend Collection
Design, functionality and style reach new altitudes with this collection. Introducing Transcend VX™ variable expansion, which allows customizable capacity and ensures a sturdy shape for easy packing. All meticulously engineered for a lifetime of memorable travels.
Briggs & Riley® has a LIFETIME GUARANTEE
Briggs & Riley® brand believes that customers are family. When you are family you do what is right. Briggs & Riley® lives by the philosophy that customers are family and should lookout for one another and that is why Briggs & Riley® offers a lifetime repair guarantee on all their bags. If your Briggs & Riley® bag is ever broken or damaged, even if the airline caused the damage, Briggs & Riley® will repair your bag free of charge. To Briggs & Riley® "lifetime guarantee" is more than a marketing strategy; its a sigh of their integrity. Review your Briggs & Riley repair options at www.briggs-riley-bags-luggage-travel-accessories.com/briggs-riley-repairs
Briggs & Riley® PHILOSOPHY
Briggs & Riley® bags are engineered for reality and knows that when your traveling, your luggage can mean the difference between a frantic trip or a relaxed trip. Briggs & Riley® listens to its customers, who are using the products and design bags for their customers' real world needs. A handle mounted on the outside of a bag to create more room and flat packing. A pocket to hold toiletries or safeguard your passport. An expansion system that adds capacity then compresses your belongings securely in place. In fact, we have multiple patents designed to make travel, well, easier. It 's innovative thinking like this – never for innovation's sake – that sets Briggs & Riley® apart. Now combine all that with the only unconditional lifetime guarantee in the business. It's no wonder our customers are nothing short of Fanatical about our bags. Read more about Briggs & Riley's Philosophy at www.briggs-riley-bags-luggage-travel-accessories.com/briggs-riley-philosophy
Follow Briggs and Riley® on Social
Instagram @briggsandriley
Facebook @BriggsandRiley
Twitter @briggsandriley
Youtube @briggsriley
LinkedIn @briggs-&-riley-travelware
What Is In My Mens Toiletry Travel Kit Video | Anthony Erazo
Briggs and Riley Transcend Toiletry Bag is a great toiletry kit to match your Transcend luggage. In this video Anthony Erazo goes through what he packs in his toiletry bag when traveling. Anthony Erazo always packs a razor, facial cleanser and shampoo and conditioner.