Briggs & Riley Transcend Rolling Cabin Bag Two Wheel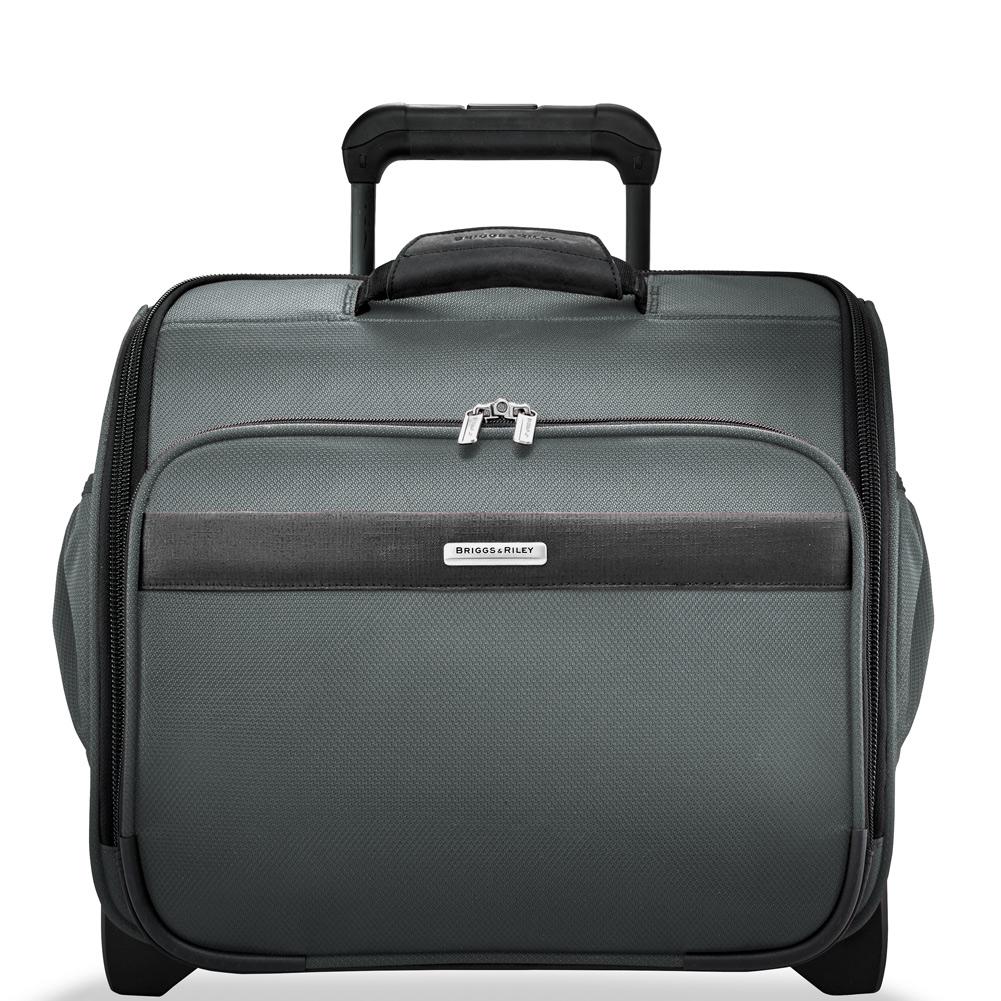 Briggs & Riley Transcend Rolling Cabin Bag Two Wheel
Briggs and Riley® Transcend Rolling Cabin Bag (Two Wheel) is ideal for business or personal travel. Cabin bag keeps you mobile on two wheels whether you are commuting to work or globetrotting. Two Wheel Rolling Cabin Bag if perfect for toting onboard flights and storing the Cabin Bag under the seat in front of you so you can keep all your personal items close at hand on your next trip. SHIPS FREE!
Briggs and Riley® Transcend Rolling Cabin Bag (Two Wheel) has a Briggs and Riley® manufacturer lifetime guarantee.
Briggs and Riley® Transcend Rolling Cabin Bag (Two Wheel) Features:
Dimensions 15.5" x 14" x 9.5" / 39.5 cm x 35.5 cm x 24 cm

Weight 6.2 lbs / 2.8 kg

Capacity 1672.1 cu. in / 27.4 liters

Material Proprietary two-tone nylon twill outer fabric has a fine weave

Self-repairing YKK® RC zippers

Style #TU416 Transcend Briggs and Riley® Collection
sold out
Briggs and Riley® Transcend Rolling Cabin Bag is ideal for all kinds of travel, the Transcend Rolling Cabin Bag keeps you mobile on two wheels while storing all your essentials. Perfect for carrying on board and laying flat under your seat or in the overhead compartment. Rolling Cabin Bag is available in colors Slate (gray), Merlot (red) and Rainforest (green).
Rolling Cabin Bag from the Transcend Collection is ideal for carrying onboard an aircraft because the bag is perfectly sized to lay flat under the seat in front of you. Cabin Bag is made with a two tone nylon twill, Transcend's outer fabric has a fine weave for a streamlined appearance. This lightweight yet durable fabric blend resists wear, dirt, moisture and abrasions to keep your Cabin Bag looking like new flight after flight. Permasquare outer fabric accents provide extra protection at high wear areas of the bag. Throughout the exterior of the Two Wheel Rolling Cabin Bag you will find high quality hardware including self-repairing YKK® RC zippers for smooth zipper action. Transcend Rolling Cabin Bag has a SpeedThru™ pocket perfect for storing your personal items such as boarding pass and ID at airport security checkpoints. Speed Thru pocket and is lined in orange to visually alert you that the pocket is open. Wide low profile wheels offer smooth quiet rolling, while an integrated handle provides a convenient pull point should you need it. Patented Outsider® Handle is made from aircraft grade aluminum and provides great interior packing capacity and increase packing space.
Two section design of the Rolling Cabin Bag has a front organizer section with a padded tablet sleeve and an RFID blocking pocket. Cavernous main compartment of the Cabin Bag accommodates a large variety of items including enough clothing for a weekend trip. As you can see, the dynamic diversity of the Briggs and Riley Rolling Cabin Bag is designed with optimal storage, access and mobility in mind.
Feature Highlights
Padded tablet slip pocket fits most iPads® and other tablets or e-readers in or out of their cases
RFID-blocking pocket for credit cards, passports and wallets protects personal data from digital pickpockets
Deep, full-length zip pocket for organizing cables, chargers and other business essentials
Elastic mesh slip pocket is ideal for keeping cables and chargers organized
Orange elastic pen loop accommodates writing implements of most sizes
Cavernous main compartment accommodates bulky or odd-shaped items
Light-colored polyester lining treats items gently and makes finding contents easy
Strategically placed abstract lining pattern for a modern aesthetic and contemporary spin
Deep, full-length slip pocket is perfect for storing magazines, files and folders
Two bloused pockets are ideal for storing accessories like belts or shoes
Proprietary two-tone nylon twill outer fabric has a fine weave for a sleek touch and non-bulky appearance; durable and lightweight fabric resists wear, moisture, dirt and abrasion
Strategic placement of ultra-durable Permasquare™ outer fabric in abrasion-prone areas
Lightweight hybrid fiberglass frame provides flexibility, durability and shape retention
Outsider® handle provides greater interior capacity and increased packing space
Aircraft-grade aluminum telescoping handle system and ergonomic Outsider® handle grip
V-groove handle tubes are stronger and guarantee less jamming
Padded durable webbing carry handle and a removable, soft-touch handle wrap provides a comfortable, ergonomic grip and is removable for easy replacement
Self-repairing YKK® RC zippers for smooth zipper action
Main compartment and organizer compartment zipper pulls can be used with a cable lock to keep contents secure
Deep, full-length SpeedThru™ pocket for quick storage of items at security checkpoints; orange lining makes it easy to spot items and alerts user if pocket is left open
Two slip pockets on sides are ideal for storing a water bottle, umbrella and other travel essentials
HideAway™ ID tag with snap closure conceals personal information
Reinforced corner guards protect case from wear and abrasion
Integrated bottom fabric handle for easy lifting
Wide, low-profile wheels for smooth, quiet rolling and a long rolling life
Streamlined wedged feet deflect impacts and provide stability to prevent bag from tipping over
About Briggs & Riley Transcend Collection
Design, functionality and style reach new altitudes with this collection. Introducing Transcend VX™ variable expansion, which allows customizable capacity and ensures a sturdy shape for easy packing. All meticulously engineered for a lifetime of memorable travels.
Briggs & Riley® has a LIFETIME GUARANTEE
Briggs & Riley® brand believes that customers are family. When you are family you do what is right. Briggs & Riley® lives by the philosophy that customers are family and should lookout for one another and that is why Briggs & Riley® offers a lifetime repair guarantee on all their bags. If your Briggs & Riley® bag is ever broken or damaged, even if the airline caused the damage, Briggs & Riley® will repair your bag free of charge. To Briggs & Riley® "lifetime guarantee" is more than a marketing strategy; its a sigh of their integrity. Review your Briggs & Riley repair options at www.briggs-riley-bags-luggage-travel-accessories.com/briggs-riley-repairs
Briggs & Riley® PHILOSOPHY
Briggs & Riley® bags are engineered for reality and knows that when your traveling, your luggage can mean the difference between a frantic trip or a relaxed trip. Briggs & Riley® listens to its customers, who are using the products and design bags for their customers' real world needs. A handle mounted on the outside of a bag to create more room and flat packing. A pocket to hold toiletries or safeguard your passport. An expansion system that adds capacity then compresses your belongings securely in place. In fact, we have multiple patents designed to make travel, well, easier. It 's innovative thinking like this – never for innovation's sake – that sets Briggs & Riley® apart. Now combine all that with the only unconditional lifetime guarantee in the business. It's no wonder our customers are nothing short of Fanatical about our bags. Read more about Briggs & Riley's Philosophy at www.briggs-riley-bags-luggage-travel-accessories.com/briggs-riley-philosophy
Follow Briggs and Riley® on Social
Instagram @briggsandriley
Facebook @BriggsandRiley
Twitter @briggsandriley
Youtube @briggsriley
LinkedIn @briggs-&-riley-travelware
What Is In My Travel Bag Video | Ashley Nichole
Briggs and Riley Transcend Rolling Cabin Bag is an easy to wheel carry on bag for traveling the world. In this video Ashley Nichole goes over what she keeps in her travel bag such as socks, headphones, and chargers.