Briggs & Riley Baseline Suiter Duffle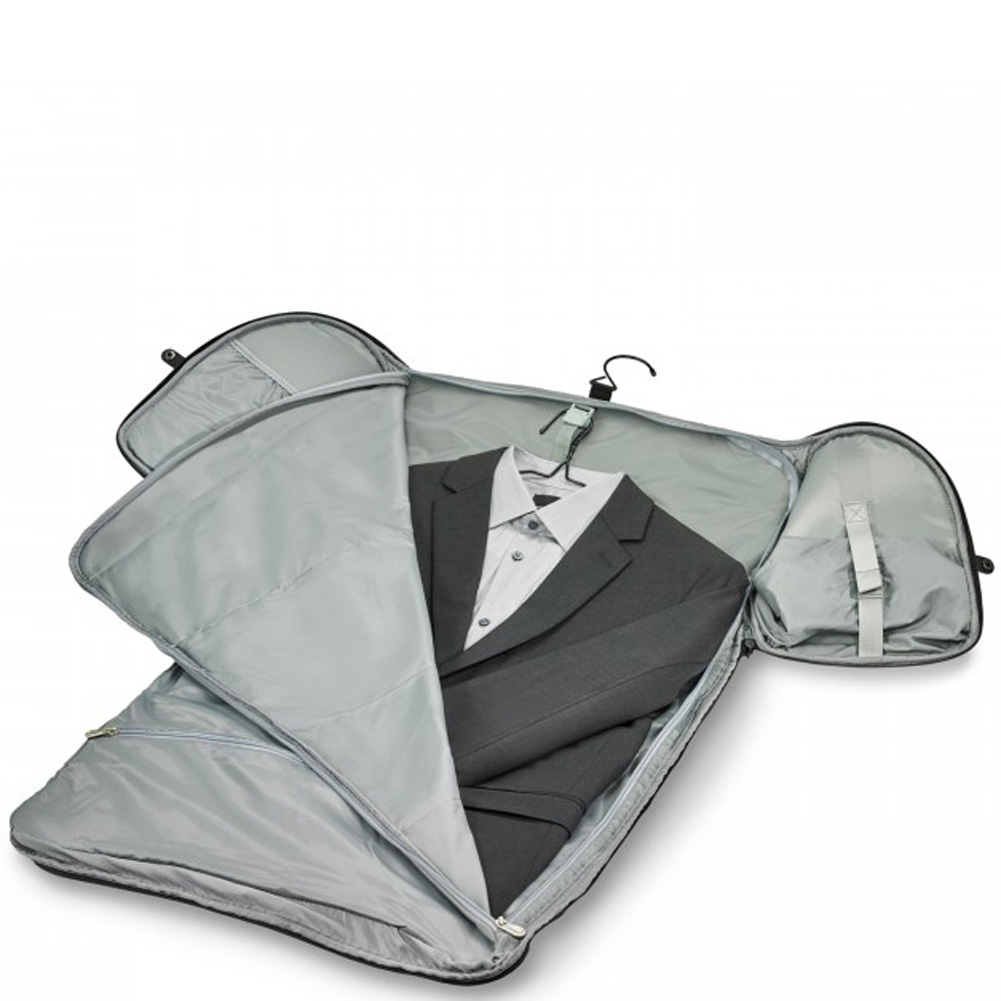 Briggs & Riley Baseline Suiter Duffle
Briggs and Riley® Baseline Suiter Duffle is a 2 in 1 bag the transforms from a duffel to a hanging garment bag. Pack your suit and formal attire and avoid wrinkles. FREE SHIPPING!
Briggs & Riley Baseline Suiter Duffle Bag has Briggs and Riley® a manufacturer lifetime guarantee.
Briggs and Riley® Baseline Suiter Duffle Features:
Dimensions 22" x 12.5" x 9" / 56 cm x 32 cm x 23 cm

Weight 3.2 lbs / 1.5 kg

Capacity 2420cu. in / 39.7 liters

Material 1680D ballistic nylon

Style #329 Briggs and Riley® Baseline Collection
The Briggs and Riley® 2-in-1 Suiter Duffle bag transforms from a duffel bag to a hanging garment bag and back again with incredible ease. From suave spy to savvy fashionista, the Baseline Suiter Duffle is versatile, lightweight and designed to be used in any way imaginable. Briggs and Riley® Baseline Suiter Duffle is available in colors Olive and Black.
Baseline Suiter Duffel is versatile and lightweight and transforms from a duffel bag to a hanging garment bag with incredible ease.
The outer fabric of the Suiter Duffle is made of Briggs & Riley iconic ballistic nylon, that is incredible durable yet sleek for a tailored look. The comfortable rolled carry handles and other leather accents, add a touch of elegance to your travel duffel bag. Multiple easy access pockets throughout the Suiter Duffle keep travel documents and your smart phone close at hand.
To turn your Briggs and Riley travel duffel bag into a Suiter, reveal the integrated hanger, unsnap the leather fasteners on each side, and fully unzip both sides of the duffel bag. You can then hang your garment bag Suiter in a doorway or in a closet. Hangers are held securely in place with a webbing strap. The webbing strap can be cinched down and locked in place. A zippered mesh pocket is perfect for storing wardrobe accessories such as belts, scarves and ties. At the bottom of the Suiter Duffel is a generously sized shoe pocket that separates your shoes from your clothing.
In the main compartment of the Suiter Duffle is ample room for packing your casual tshirts, shorts, and underwear. From suave spay, to savvy fashionista, the multipurpose Suiter Duffle serves every type of traveler with performance and style.
Featured Highlights
Cavernous main compartment stores all manner of clothing and bulky or odd-shaped items

Full-length zip pocket for additional storage and organization of smaller items

Elastic slip pocket on inside panel for chargers, cables, a pair of headphones, etc.

Transform duffle into a garment bag by fully unzipping main compartment and locating the hidden hanging hook near the back handle to hang bag from a door or closet

Suiter section securely holds 1-2 suits/long garments or 2-3 shirts, and securely holds hangers with adjustable webbing strap that can be cinched down and locked in place

Garment bag configuration still offers access to full-length zip pocket, mesh pocket, and elastic slip pocket for organizing smaller clothing items and accessories

The 2-in-1 bag can be used in a hanging configuration from a closet or over the door for access to suits, dresses or long garments, or as a duffle for more casual trips

Dimensions when fully open/hanging: 44 x 22 x 1.5 in./112 x 56 x 4 cm 1680D ballistic nylon outer fabric resists wear, water, dirt and abrasion

Rolled leather handles for a sleek look and a comfortable, ergonomic carrying option

Side leather slip handle is perfect for pulling duffle out of overhead compartment

Self-repairing YKK® RC zippers for smooth zipper action

Ergonomic double zipper pulls on main compartment can be used with a cable lock to keep contents secure

Generously sized bloused side shoe pocket accommodates a pair of most shoe sizes and can be accessed from exterior; when not in use, pocket rolls up easily and is secured with button clasps to save space inside

Deep, full-length SpeedThru™ pocket for quick storage of items at security checkpoints; orange lining makes items easy to find and alerts you if pocket is left open

Slip-through back strap allows bag to slide over the Outsider® handle of Briggs & Riley rolling bags for easy transportation of two bags as one

HideAway™ ID tag conceals personal information

Rubber feet protect bottom of bag when placed on unclean surfaces

Removable, adjustable shoulder strap with removable shoulder pad for a custom fit and comfortable carrying options

Perfect for a 2-5 day trip
About Briggs & Riley Baseline Collection
When personal choice is the standard, Briggs & Riley's flagship collection is the way to go. Baseline offers distinctive pieces that work together seamlessly, allowing modern travelers to build original solutions to fit their lifestyle. Choose from classic black or timeless olive.
Briggs & Riley® has a LIFETIME GUARANTEE
Briggs & Riley® brand believes that customers are family. When you are family you do what is right. Briggs & Riley® lives by the philosophy that customers are family and should lookout for one another and that is why Briggs & Riley® offers a lifetime repair guarantee on all their bags. If your Briggs & Riley® bag is ever broken or damaged, even if the airline caused the damage, Briggs & Riley® will repair your bag free of charge. To Briggs & Riley® "lifetime guarantee" is more than a marketing strategy; its a sigh of their integrity. Review your Briggs & Riley repair options at www.briggs-riley-bags-luggage-travel-accessories.com/briggs-riley-repairs
Briggs & Riley® PHILOSOPHY
Briggs & Riley® bags are engineered for reality and knows that when your traveling, your luggage can mean the difference between a frantic trip or a relaxed trip. Briggs & Riley® listens to its customers, who are using the products and design bags for their customers' real world needs.A handle mounted on the outside of a bag to create more room and flat packing. A pocket to hold toiletries or safeguard your passport. An expansion system that adds capacity then compresses your belongings securely in place. In fact, we have multiple patents designed to make travel, well, easier. It 's innovative thinking like this – never for innovation's sake – that sets Briggs & Riley® apart. Now combine all that with the only unconditional lifetime guarantee in the business. It's no wonder our customers are nothing short of Fanatical about our bags. Read more about Briggs & Riley's Philosophy at www.briggs-riley-bags-luggage-travel-accessories.com/briggs-riley-philosophy
Follow Briggs and Riley® on Social
Instagram @briggsandriley
Facebook @BriggsandRiley
Twitter @briggsandriley
Youtube @briggsriley
LinkedIn @briggs-&-riley-travelware
What Is In My Travel Duffel Bag Video | The Minimalists
Briggs and Riley Suiter Duffel is a great bag for packing for business trips since the bag transforms into a hanging garment bag easily. In this video, Joshua Fields Millburn, The Minimalists gives his tips for packing his duffel bag when he travels whether for a long trip or a short weekend trip.