Briggs & Riley Baseline Commuter Expandable Spinner Carry-On U119CXSP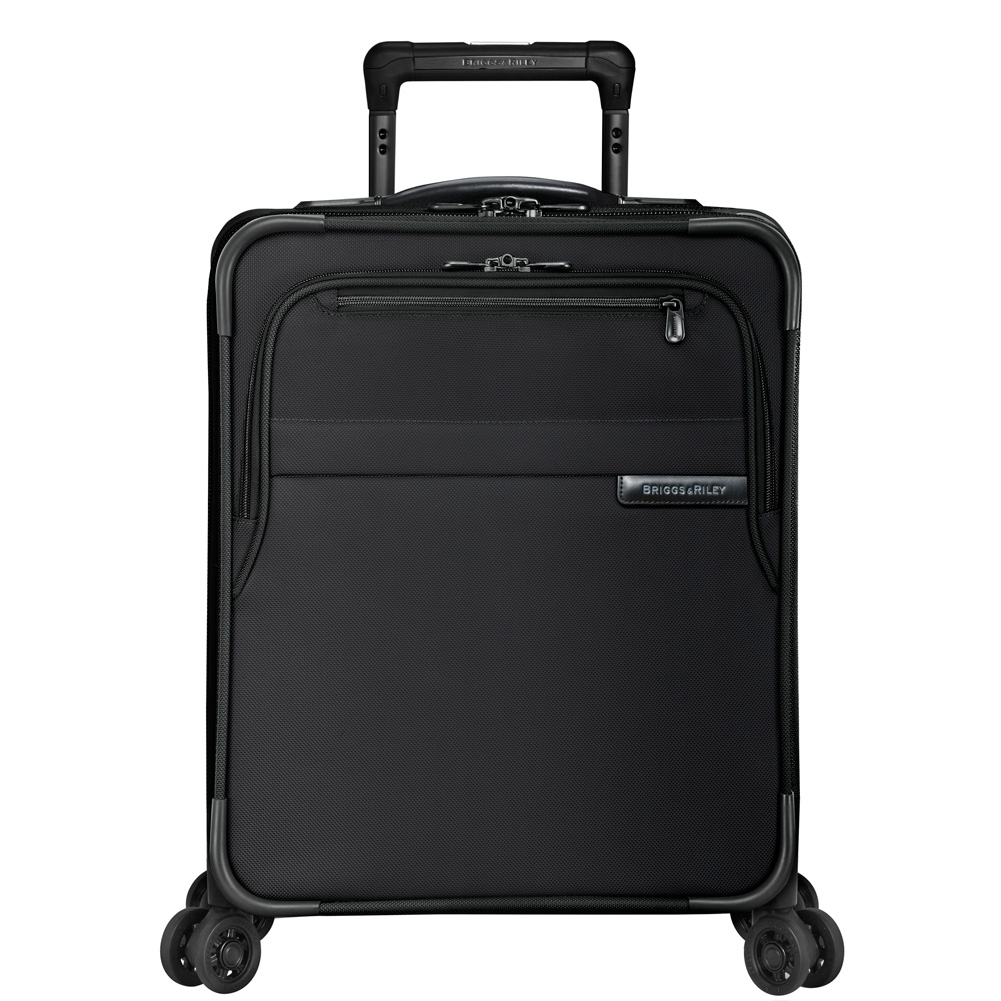 Briggs & Riley Baseline Commuter Expandable Spinner Carry-On U119CXSP
Briggs and Riley® Baseline Commuter Expandable Spinner luggage is a lightweight carry-on with CX™ technology that compresses down so you can pack more. SHIPS FREE!
Baseline Commuter Expandable Spinner has a Briggs and Riley® manufacturer lifetime guarantee.
Briggs and Riley® Baseline Commuter Expandable Spinner Carry-On Features:
Dimensions 19" x 14" x 9" / 48.5 cm x 35.5 cm x 20.5 cm

Weight 8.4 lbs / 3.8 kg

Capacity 2195 - 2825 cu. in / 36 - 46.3 liters

Material 1680D ballistic nylon outer fabric, soft, light colored, durable twill lining

Outside expansion depth 11.5" / 29 cm

Style #U119CXSP Briggs and Riley® Baseline Collection
Briggs and Riley® Baseline Commuter Expandable Spinner carry on features patented CX™ Expansion-Compression Technology. Baseline Commuter Spinner has 4 re-engineered double swivel spinner wheels for effortless 360° navigation. This compact, lightweight suitcase is the perfect carry-on for overnight trips, and ideal for travel within European countries (France, Germany, Italy) and Asian countries (Hong Kong, China, Japan, Taiwan). With CX technology, the bag expands up to 33%, then compresses back down to original size to store in the overhead compartment or under your seat. Baseline Commuter Expandable Spinner Carry-On is available in colors olive-green and black. Watch the CX Expansions Demo Video to learn more.
Whether you are taking a quick domestic weekend trip to Vegas or a two week vacation to Europe, the Spinner Commuter Carry-On packs a big punch with its CX™ Expansion-Compression Technology so you can pack more. Dimensions of the carry on are designed to meet International carry on guidelines. Briggs and Riley® upright carry on will fit easily in overhead bins on airplanes. Baseline carry on not only packs a lot, it is incredibly robust and will stand up to your vacations year after year. With a built in suit compartment to safely store your business suits, this suitcase means you may not need to pack a checked bag even for two week long international travel. If you do decide to pack a checked suitcase, the Commuter Carry-On pairs excellently with the Briggs & Riley Baseline Large Expandable 28 inch Spinner Model U128CXSP.
Baseline Commuter Expandable Upright 19 inch carry on Briggs and Riley® suitcase is made from ballistic nylon that will withstand moisture, dirt, abrasions and many trips to come.
Several handles placed at different points on your luggage including a leather accent top grab handle. There is a handle on the side of your suitcase and a hidden handle on the bottom of your suitcase so you can maneuver your luggage any way you want.
Commuter carryon Briggs and Riley® luggage features a gusseted front pocket for hassle free storage of extra items. Large flat interior has no bars so you can neatly pack your clothing. CX™ Expansion-Compression Technology increases packing capacity by 33% then compresses back to original size for easy overhead storage.
Suitcase handle is made of aircraft grade aluminum handle system with 3 top heights. Handles feature V-groove tubes so handles are made stronger with less jamming.
Hideaway™ ID holder conceals personal information unless it is needed. ID holder easily pulls out when you grab the ID slot and retracts back into its hiding spot when you let go.
Featured Highlights
CX™ compression-expansion system increases packing capacity, then compresses down to keep contents secure
Cinch-down mesh garment panels keep contents from shifting and minimize wrinkling
Aircraft-grade aluminum handle system with 3 stop heights
Ballistic nylon outer fabric resists wear, moisture, dirt and abrasion.
Cushioned top carry handle for smooth handling
Four double swivel wheels for effortless 360° navigation
HideAway™ ID tag conceals personal information
Hybrid fiberglass frame is lightweight and provides flexibility, durability and shape retention
Large u-zip front pocket is perfect for storing extra items
Low profile wheels and feet fit most overhead compartments
Outsider® handle provides greater interior capacity and a flat interior surface for packing so clothing arrives wrinkle-free
Outsider® pocket for convenient storage of quick-access items
Reinforced, low profile protective corner guards on all 4 corners
Retractable low profile side carry handle
Self-repairing YKK zippers for smooth zipper action with lockable double zipper pulls
SpeedThru™ pocket allows for quick storage of items at security checkpoints
Streamlined wedged feet deflect impacts V-groove handle tubes are stronger and guarantee less jamming
About Briggs & Riley Baseline Collection
When personal choice is the standard, Briggs & Riley's flagship collection is the way to go. Baseline offers distinctive pieces that work together seamlessly, allowing modern travelers to build original solutions to fit their lifestyle. Choose from classic black or timeless olive.
Briggs & Riley® has a LIFETIME GUARANTEE
Briggs & Riley® brand believes that customers are family. When you are family you do what is right. Briggs & Riley® lives by the philosophy that customers are family and should lookout for one another and that is why Briggs & Riley® offers a lifetime repair guarantee on all their bags. If your Briggs & Riley® bag is ever broken or damaged, even if the airline caused the damage, Briggs & Riley® will repair your bag free of charge. To Briggs & Riley® "lifetime guarantee" is more than a marketing strategy; its a sigh of their integrity. Review your Briggs & Riley repair options at www.briggs-riley-bags-luggage-travel-accessories.com/briggs-riley-repairs
Briggs & Riley® PHILOSOPHY
Briggs & Riley® bags are engineered for reality and knows that when your traveling, your luggage can mean the difference between a frantic trip or a relaxed trip. Briggs & Riley® listens to its customers, who are using the products and design bags for their customers' real world needs.A handle mounted on the outside of a bag to create more room and flat packing. A pocket to hold toiletries or safeguard your passport. An expansion system that adds capacity then compresses your belongings securely in place. In fact, we have multiple patents designed to make travel, well, easier. It 's innovative thinking like this – never for innovation's sake – that sets Briggs & Riley® apart. Now combine all that with the only unconditional lifetime guarantee in the business. It's no wonder our customers are nothing short of Fanatical about our bags. Read more about Briggs & Riley's Philosophy at www.briggs-riley-bags-luggage-travel-accessories.com/briggs-riley-philosophy
Follow Briggs and Riley® on Social
Instagram @briggsandriley
Facebook @BriggsandRiley
Twitter @briggsandriley
Youtube @briggsriley
LinkedIn @briggs-&-riley-travelware
How To Pack A Carry-On Suitcase Video | Melissa Maker
Going out of town for the weekend? Want to know how to pack your Baseline Carry On more efficiently? In this video, Melissa Maker offers her tips on packing a carry on suitcase for a 3 day trip.